In 1947, an American newspaper columnist, Drew Pearson, began asking for donations of food and clothing that could be sent to help the people of France and Italy. Public response was overwhelming and $40 million in food and supplies were collected and shipped to Europe aboard the 700-car American Friendship Train. A French veteran of WWI and rail worker, André Picard, suggested that France respond by sending a single boxcar full of gifts to America as a way of saying thank you. Tens of thousands of French citizens donated objects to be sent to the United States.
Since the outpouring of goods was so great, it was decided that one boxcar would be sent to each state with one being shared between the District of Columbia and the Territory of Hawaii. Each car was to be adorned with the coats of arms of all of the provinces of France.
In all, 52,000 gifts were collected, ranging from worn wooden shoes to a jeweled Legion of Honor medal that belonged to Napoleon. The collection also included a Louis XV carriage, children's drawings, and tree seedlings. The 49-car train was shipped to America aboard the freighter Magellan, which sailed into New York Harbor on February 3, 1949. A different gauge from US railroads, the cars were loaded onto flatcars in New Jersey for delivery, at no charge, by the nation's railroads to state capitals across the country.
The "Forty and Eight" draws its origin from World War I. The boxcars were first constructed in the 1870's and each boxcar carried 40 men or 8 horses. The cars dimensions measured, only 20.5 feet long and 8.5 feet wide.
To learn more about the Merci Train, visit the National website.
Maine's Merci Boxcar
Maine's boxcar is part of the permanent collection at the Boothbay Railway Village. A restoration of the car was completed in 2009. In 2018, the Museum is relocating the car to a new site between Thorndike Station and the Antique Auto Exhibit and replacing the plaques which have been faded by the sun.
The Maine State Museum in Augusta is home to the contents of Maine's boxcar.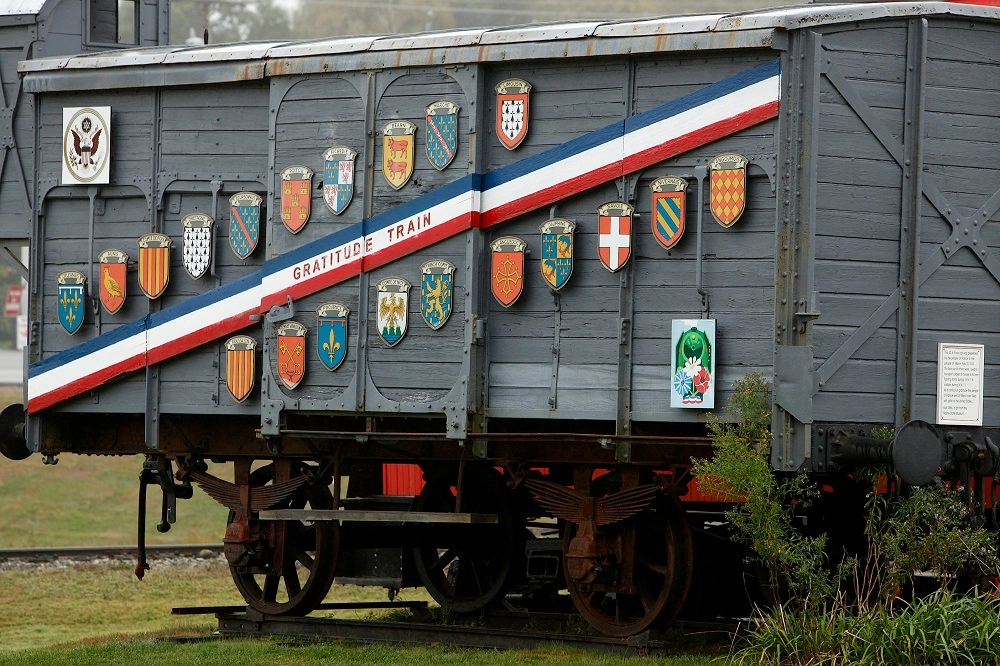 This French boxcar was presented by the people of France to the people of Maine in February, 1949. It could transport either 40 men or 8 horses. The structure on the back is a brakeman's cupola. This boxcar and others like it were used to transport soldiers and horses to fighting fronts in World War I and soldiers or prisoners of war during World War II.
Support the Railway Village Museum
Help Us Preserve Maine's History for Generations to Come