The Model Railroad Exhibit, housed since July 2019 in the Ronald E Spinney Building at the Railway Village, is under constant construction, portraying railroading in Maine during the 1950s—1960s. The current HO scale layout has been evolving since the fall of 2006 and will take several more years to complete at the current pace.
All of the work on the layout is done by volunteers, and funded by annual dues, donations and sales of donated model railroad equipment. The group is always interested in donations of model railroad layouts, locomotives, rolling stock,  buildings, scenery materials, tools or reference materials. These items may be used on the Museum's layout or sold at model train shows.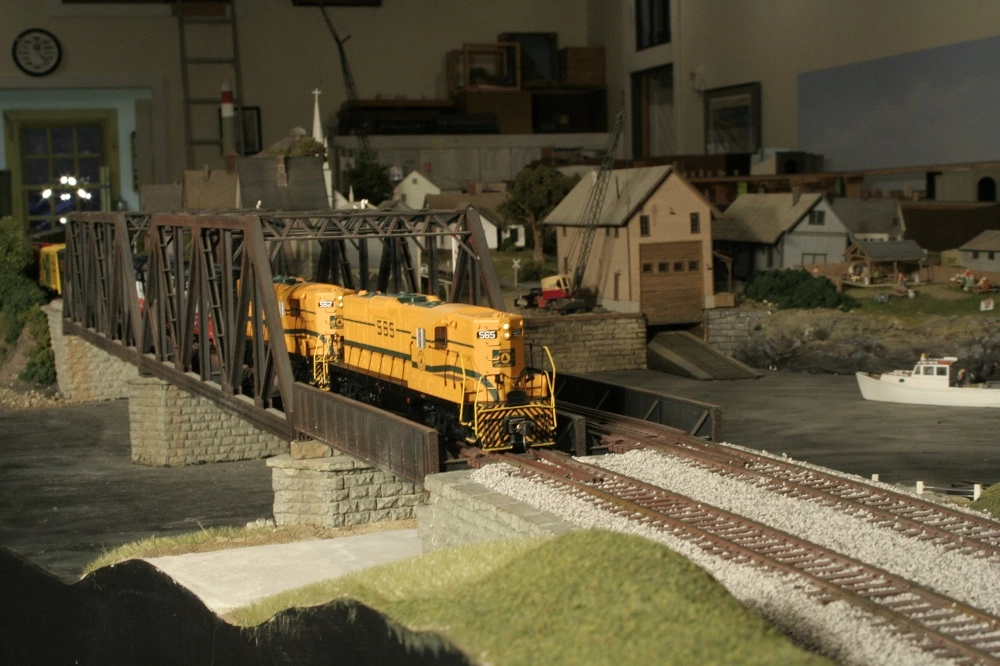 Dedication of the Ronald E. Spinney Building at the Village in July 2019
Approximately 50 of his family, friends, colleagues and fellow model railroad enthusiasts gathered in July of 2019, in an emotional dedication of the building where the late Ron Spinney devoted many hours in creating what is regarded by many as "one of the best model railroads" in New England.
As expected, friends, neighbors and fellow "modelers" travelled from several states for the evening event, one that became increasingly moving as his family, friends and colleagues spoke of him. Ron Spinney's extraordinary life story had, in retrospect, a simple plan, one that played out so well it seemed to have been in his mind all along. The longtime Southport resident turned aside compelling big company job offers when graduating from the University of Maine. He married his college sweetheart, returned home, then built a company, and then, a family.
And, it turned out, he led the building of an ever-growing model railroad layout that remains in construction today, an ever-evolving landscape that, piece by piece, makes real what Spinney envisioned years ago: a replica of mid-20th century Maine cities and towns, and the railways running through them."
One of several of his longtime model railway colleagues who spoke from their hearts, included George McEvoy, who hired young Spinney in the mid-1960s. Unknown to many, Ron Spinney was the first paid employee at the Village. "He was a special man," noted McEvoy. "He knew who he was, even when I first met him, a15-year old train conductor with a passion for trains that lasted his lifetime."
The Model Railroad Group meets year round.  Please come and feel welcome. Contact the group for additional information or to make a donation.
My wife and I had a wonderful time here! Great place, fun train ride, and the model railway exhibit is stunning. Everyone was incredibly friendly – especially Anthony at the model railway building. It was wonderful to get to talk to him and pick up a locomotive and gondola car as honeymoon keepsakes. I hope to come here again!
Support the Railway Village Museum
Help Us Preserve Maine's History for Generations to Come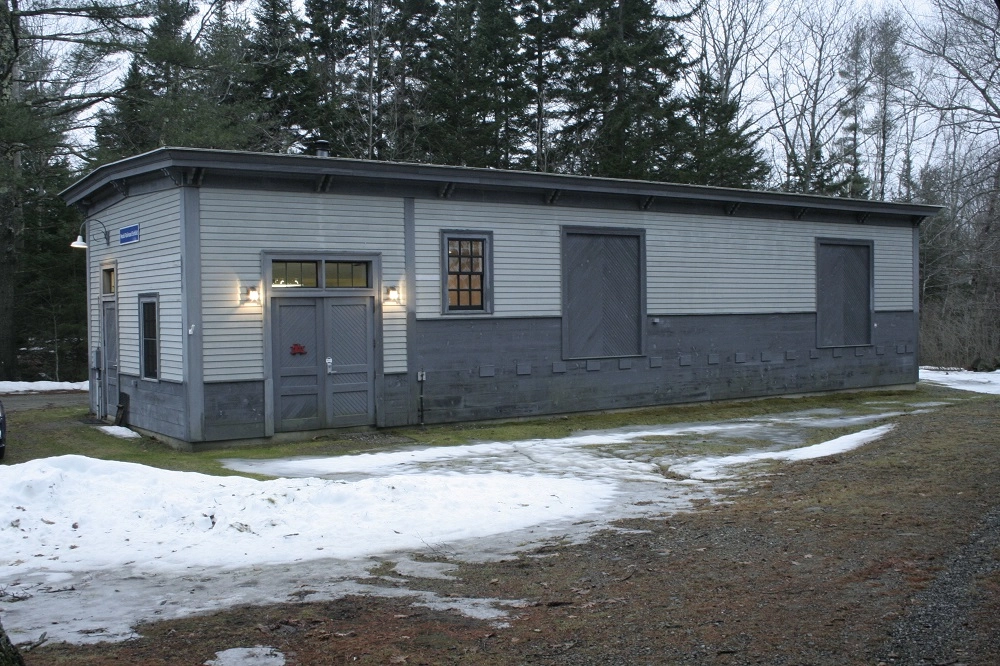 Fast Facts:
46 x 20 foot layout
3.5 scale mile main line
600 feet of track and 80 turnouts
Includes both standard and narrow gauge
Represents railroading in Maine during the 1950s & 60s
Housed in a replica of a historic Maine freight station
Digitrax Super Chief digital command controls with radio throttles
Turnouts are operated by Tortoise switch machines
L-girder style benchwork
Subroadbed is 3/4" plywood with cork roadbed and code 83 nickel silver track