Woodblock Printer: Jaime Wing
Woodblock printing is a traditional technique for printing images or text that dates back to third century Asia.  Woodcut spread to Europe in the 13th century.
In the 1860s, the influence of Japanese art (such as one of the most well-known woodcut image in history, The Great Wave off Kanagawa by Katsushika Hokusai) upon many artists of the time – notably Henri de Toulouse-Lautrec, Paul Gauguin, Vincent Van Gogh, and others – led to a revival of the medium in Europe.
Modernist and German Expressionist artists continued to favor woodcut printing due to the ease of production in the studio with little special equipment.  Interest in block printing continues with people young and old to this day.
Jaime Wing is a printmaker, artist and designer based in Portland, Maine.  Originally a digital artist and watercolorist, Jaime's first taste of relief printmaking was in high school, but when he took a course in stone lithography in college he fell in love with printmaking processes.  These days, Jaime's printing methods of  choice are letterpress and traditional wood block printing. Jaime does most of his print work at Pickwick Independent Press, a cooperative, community-based printshop in downtown Portland.
Jaime will be carving and printing at the Village on:
Dates TBA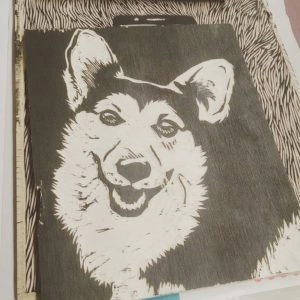 Support the Railway Village Museum
Help Us Preserve Maine's History for Generations to Come
Get the most out of your museum experience!