There are so many 'behind the scenes' aspects to operating a museum, caring for and maintaining its collections, and properly curating and displaying artifacts. Our staff and volunteers are constantly working on projects, and many of them are never seen by the public.  So we have created this page as a resource for our fellow historians to participate in the process, so they can further enjoy the finished product when visiting the museum!
Restoring a Vintage Tractor
Stein Eriksen has a great passion for all things mechanical, and his most recent project has resulted in another victory for the museum! When Stein first spotted the 1952 Allis Chalmers Model IB tractor his interest was piqued. So, the team began the project and got to work. First came the task of where to relocate it so he could work on it. He, David and Karen set off to the auto museum to maneuver other vehicles around and make space. Next came the research to track down the needed parts. After the repairs came inspections, fuel, oil and carburetor checks ups, and she was once again ready to go! 'the old girl just went by my office purring like a kitten, sounding just like she did in '52, and a man with a giant boy's smile!' said Executive Director Paul Barcellos
Stein Eriksen: 'It was a good challenge, you think you can assume that the project was put together correctly and you can just focus on compression, fuel and spark…. But this one was a bit more challenging, The '52 has a magneto system, that charges the coil and is triggered via a set of points. After the points were cleaned and able to get spark back, you would "assume" it would fire correctly… Not in this case, it actually was firing too early… to make a long story short. The Allis should have two timing points on the flywheel, "Center" for top dead center and "Fire" for when it should spark. In this case, there was TWO "Fire" stamps on the flywheel, no "Center". Once we figured out which one was the correct "Fire" we repositioned the magneto and it started right up. Another mystery solved'.
Advertising Curtain Restoration
Next time you come to the Railway Village Museum, be sure to revisit our Town Hall to see a new (old) addition. Turn of the century town halls, grange halls, and theaters often had large curtains made of muslin, linen, or canvas hanging above their stages. Though often decorative and serving as backdrops for performances, others advertised local businesses. Built in 1847 for $700 by Ephram Pinkham, the Boothbay Town Hall, now located on the museum grounds, is an example of the Greek Revival style popular in Maine from 1830-1860. In the early to mid-1900s, a large advertising curtain was hung in the Town Hall. The curtain was painted on canvas from a recycled sail and advertised local businesses, some of which still exist in Boothbay today! In August of 2022, the advertising curtain was restored by Vermont-based non-profit 'Curtains Without Borders'. Restoration efforts were led by Curtains Without Borders expert conservator, M.J. Davis with the help of her husband Dan Davis and RVM employees: Karen Aumick, Emma Markowitz, and David Blackman. The Railway Village Museum would like to extend a special thank you to J. Edward Knight Insurance for donating the funds to restore this piece of local history. Stop in and you will see they were one of the original businesses on the curtain! If you would like to know more about Curtains Without Borders, check out their website curtainswithoutborders.org.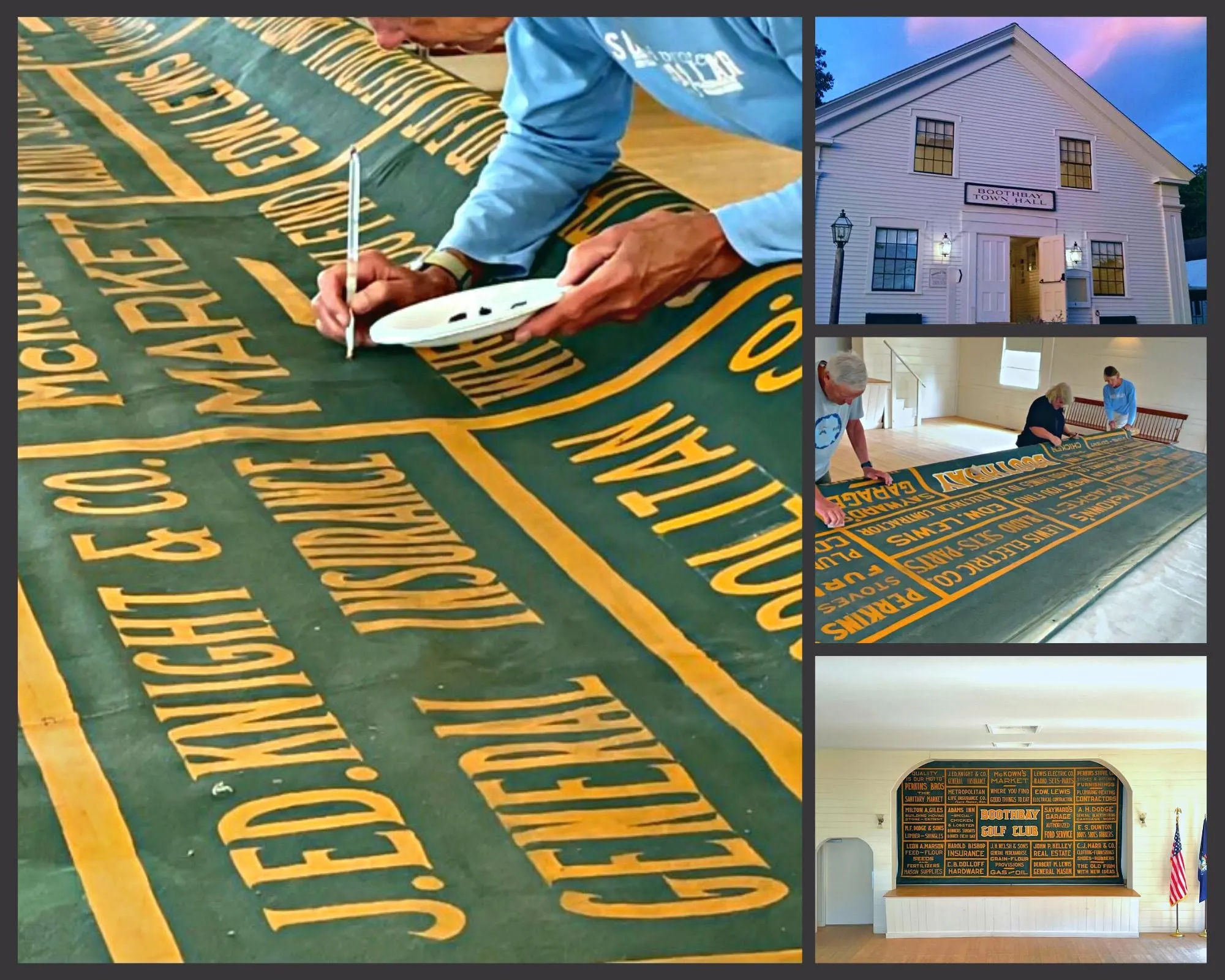 This month we brought the 1929 Packard back to life.
As with any car that has been sitting for the last 5 plus years a few things needed to be done before it would fire up. There's 3 things that are required to run an engine, compression, fuel and spark. First we did a visual inspection of the motor, checked compression and oil. Then moved on to spark where we needed to clean and gap the points as well as repair the coil wire. Once we had good spark we could move onto fuel. The carburetor was in relatively good shape, besides a cleaning of the float and valve the rest was in good order. Now that we had compression, fuel and spark it was time to start it up. The packard came back to life and that straight 8 motor ran flawlessly for about a minute and then stopped. From here we knew we had a fuel supply issue as the Packard is gravity fed from a Stewart vacuum fuel pump. Next logical step was to take the Stewart fuel pump apart to see what was going on. The Stewart vacuum fuel pump is an interesting piece of technology as it uses the engine manifold vacuum to draw gasoline from the fuel tank and fill the gravity fed reservoir. Once apart it was apparent that fuel had completely evaporated inside and left a fair amount of corrosion and the vacuum shutoff was completely seized. After a good cleaning and lubricating the mechanical shutoff, it was time to reassemble. Time to try again and the engine fired right up and ran flawlessly. The next day we took it out on the road and everything worked well and provided a smooth ride.
The 1929 Packard was donated by Lydia Kitfield on August 22, 1989,
On to the next vehicle our… 1930 Ford pickup.